feast day of st. francis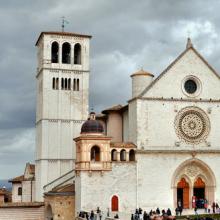 Ancient stones, steep stairs, and sparkling fresh air greeted me upon arrival in Assisi, Italy, a month ago. Lush olive groves, leaves iridescent in the sun, offset the city stones. "What sort of place is this, that shaped St. Francis 800 years ago?" I asked myself. Eager to deepen my understanding of the saint, I had returned to Assisi to walk in the footsteps of St. Francis.
Profligate playboy, drama king, dejected knight, young Francis lived life large. He grew up in turbulent times, with civic unrest in Assisi and war with nearby Perugia surrounding him. Returning from a year as a prisoner of war in Perugia, sick and weak, Francis drifted. When he sold his cloth merchant father's wares to repair a church, his father chained him in punishment. Francis stripped in public, denouncing his father. Unlikely material for a saint.
Yet God shaped Francis over time, and Francis yielded. A simple saint, Francis wanted one thing. Nothing but God, he proclaimed, shedding all else. He chose a life of simplicity, serving the poor, and calling the church to reform.
Today, Oct. 4, Christians around the world remember one of the great heroes of our faith, and the current pope's namesake – Francis of Assisi. But Francesco Bernadone (Francis of Assisi), who died on Oct. 3, 1226, must be laughing at the irony of it all.
He was one of the first critics of capitalism, one of the earliest Christian environmentalists, a sassy reformer of the church, and one of the classic conscientious objectors to war. Even though it's hard to imagine a saint whose life is more relevant to the world we live in today, Francis was not always so popular.
Legend has it, the first time he preached at the Vatican, the pope told him to go preach to the pigs. But later the pope had a vision: the corner of the church was collapsing, and little Francis and the youth of Assisi were holding it up. Arguably that youth movement was one of the most powerful restorations of church history. While he did not hold back on his relentless critique of the church, he remained humble and hopeful. He stopped complaining about the church as it was and started dreaming of the church as it could be. As Francis said, he heard God whisper: "Repair my Church, which is in ruins."
So perhaps it's providential that 800 years later the pope is named after him.