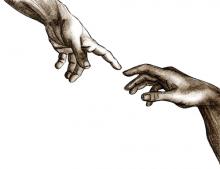 The bearer of Good News, the one who carries the message of Resurrection, is not motivated by fear of punishment (either for herself or others) but by confidence in her experience of the love of God. She knows God's love is greater than anything in herself or in her hearers; that Jesus can conquer anything in them that is not controlled by holy love.
"Such love has no fear, because perfect love expels all fear. If we are afraid, it is for fear of punishment, and this shows that we have not fully experienced his perfect love." 1 John 4:18
God's love has the final word, for Jesus has conquered the sin of the whole world and has defeated the grave. Christ's best messengers know this love by its all-consuming redemptive activity in themselves and confidently carry this love to others, without fear.