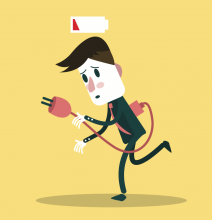 It was difficult to be a Hoosier last week, particularly as one caught in the crossfire between Indiana's narrow-minded lawmakers on the Right and the rage of the political Left. The battle cry "Boycott Indiana!" reverberated through social media channels even though many Hoosiers vehemently oppose the discriminatory new RFRA law. My very own neighborhood mourned one of the casualties of this battle: a major economic development that was canceled when the funders heard about RFRA.
It was amidst this firestorm that I read Gareth Higgins' superb essay "A Newsfeed of Fear" (Sojourners, May 2015). Given my present frame of mind, Higgins didn't have to twist my arm to convince me that fear was a prevalent factor in the version of reality that we are fed through media channels.
Higgins' essay reminded me of the prophetic hope of the Israelite people that is repeated throughout the Hebrew Bible: "None shall make them afraid." If God's people are indeed shaped by a perfect love that casts out fear, how then, I wondered, do we begin embodying an alternative to the newsfeed of fear in the way that we read, tell, and embody stories?
Higgins suggests that the answer to this question involves practicing the virtues of context, compassion, attention to detail, and pause. Space didn't allow Higgins to elaborate on these virtues, so I would like to suggest my own interpretation and offer an additional fifth: gratitude.