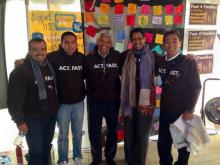 I was traveling to Culpeper, Va., on the #Fast4Families bus tour to speak to a group of workers assembled at St. Luke's Lutheran Church. As we looked out the window we were struck that every 50 feet there stood a plaque marking the place where another significant battle took place in the Civil War.
As we sat down in the church, I didn't know what I was going to say to all-immigrant group. My message up to that point had focused on mobilizing non-immigrants to join the movement. What could I say to this immigrant gathering?
I prayed. I asked God, "What do you want to speak to this group through me?' And the dots started to connect.