Fantine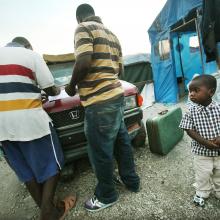 Few narratives in the Hebrew Bible are more foreign to us than this week's lection. We do not give away our children. In a society determined by socio-economic forces utterly beyond the control of individual citizens (e.g., globalization), we do our best to prepare ourselves for the inevitability of change. But what happens when we lose our footing?
Contemporary life changes too fast for habits and routines to have any chance to settle into a pattern. Western individuals must navigate their way through the fears and anxieties that are endemic to such an existence. Such is the pace of change, that effective life-strategies today may be obsolete tomorrow. We will do everything in our power to hold back the floods that threaten to wash away that which we hold dear — especially our children.
What was it like for parents in the Bible? Hannah, Samuel's mother, was beset by another set of insecurities than those faced by contemporary Westerners. In the socio-economic situation of twelfth-century B.C.E., an Israelite woman's worth was held in direct proportion to her fertility. Hannah was barren and thus her spirit was troubled to the point that she refused to eat, weeping instead on account of her "great anxiety and vexation" (1 Sam. 1:16 NRSV). In desperation, she made a vow before the LORD of hosts that if God would grant her a son, she would dedicate him to the LORD. The LORD heard Hannah's prayer and blessed her with Samuel, whom she turned over to Eli the priest, according to her promise.