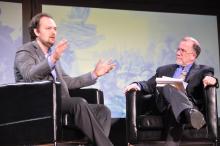 Just a few years ago, Ross Douthat earned the distinction of becoming the youngest regular columnist the New York Times has ever employed. He also has the unique position of being a conservative Christian in the belly of what some Christians might consider the proverbial "beast."
So, how's that going for him?
"It's been wonderful," he told Michael Cromartie, Vice President at the Ethics and Public Policy Center, during an onstage interview at the Q Conference in Washington, D.C. Tuesday evening.
The conversation focused on the themes of Douthat's new book, Bad Religion: How We Became a Nation of Heretics.