faith in politics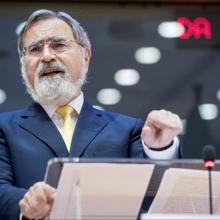 Rabbi Jonathan Sacks made a name for himself as chief rabbi of Great Britain for nearly a quarter-century, a time of great tumult that included the Sept. 11, 2001, attacks, the influx of millions of Muslims into Europe, and the ongoing pressures to absorb and assimilate newcomers into a mostly secular society.
As chief rabbi, from 1991 to 2013, he stressed an appreciation and respect of all faiths, with an emphasis on interfaith work that brings people together, while allowing each faith its own particularity.
Human trafficking and sex slavery thrives in the U.S. and abroad. Census Bureau measure more Americans living in poverty. Debate brews over new method of measuring poverty. Poll finds voters deeply torn. Faith important in 2012 presidential election, but skepticism about Mormonism remains. Health tab for climate change: $14 billion. What do the Copts mean for Arab Spring?