fact-finding trip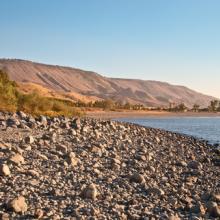 More than 20 lawmakers and Capitol Hill aides, including one nude congressman, took a booze-fueled late-night swim in Israel's Sea of Galilee last summer, Politico reported on Monday. Which leaves at least one question: Is skinny-dipping at the biblical site sacrilegious?
Not really, Christian leaders and Holy Land experts said.
"Conservative Christians, obviously, aren't for getting naked in public or drunk anywhere," said Russell D. Moore, dean of the School of Theology at Southern Baptist Theological Seminary in Louisville, Ky.
"The location of the Sea of Galilee, however, doesn't make the story any more offensive to Christians than it is to the general public," he said.