Ernst von Freyberg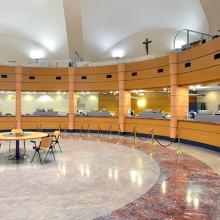 Profits plunged by more than $100 million at the Vatican bank last year after thousands of accounts were shut down in a radical overhaul of the scandal-scarred institution.
In its 2013 annual report released Tuesday, the bank, officially known as the Institute for Religious Works, said its net profit totaled 2.9 million euros ($3.9 million) last year, a dramatic drop from the 86.6 million euros ($117.8 million) it reported in 2012.
The bank said the slump was due to extraordinary expenses, losses related to externally managed investment funds and fluctuations in the price of gold.
Losses included a controversial $20.5 million loan granted to a production company owned by a friend of Cardinal Tarcisio Bertone, the former Vatican secretary of state who has faced criticism for mismanagement as the church's No. 2 official under retired Pope Benedict XVI.
Two top managers of the Vatican Bank resigned on Monday, just five days after Pope Francis appointed an independent commission to conduct a top-to-bottom review of the scandal-plagued bank.
The surprise resignation of the bank's director general, Paolo Cipriani, and of his deputy, Massimo Tulli, follows the arrest of a senior Vatican official with close ties to the bank who was charged on Friday with attempting to smuggle 20 million euros into Italy from Switzerland.
Cipriani, 58, served as the bank's director general since 2007 and will be replaced on an interim basis by the bank's president, German financier Ernst von Freyberg, who was appointed last February in one of Pope Benedict XVI's last official acts.