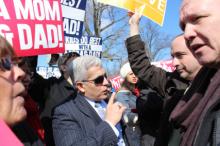 Isn't it remarkable, attorney Ted Olson said after arguing for same-sex marriage before the Supreme Court on Tuesday, that the other side wasn't really arguing against it?
"No one really offered a defense," he said of his opponents' bid to uphold Proposition 8, the 2008 California referendum that effectively ended gay marriage in the state by defining marriage as between a man and a woman.
The question inside the courtroom was not so much can there be gay marriage, but "how do you establish marriage equality?" said David Boies, another attorney for Prop 8 opponents.
Indeed, the lawyer trying to prop up Prop. 8, which was struck down by federal trial and appeals courts, spent barely any time talking about the virtues of traditional man-woman marriage or the hazards of same-sex marriage.
And that, for supporters of gay marriage, shows just how far this debate has come in the U.S.: It's no longer "if" it will be accepted and legal, but "how" and "when."