Environmental Missions: Planting Churches and Trees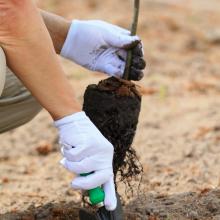 Many believers are familiar with the term "medical missions." Less well known, though a growing awareness is popularizing the movement, is the field of environmental missions. The idea's biblical base is to combine God's creation care mandate with the additional call of Christ's "great commission." What that means and looks like and how it can be cultivated into fruition is the subject of Lowell Bliss's new book, Environmental Missions: Planting Churches and Trees. Bliss is the director of environmental missions organization Eden Vigil.
The purpose of the newest category of missions, Bliss asserts, is two-pronged. The goal is to integrate the dual aims of the environmental missionary: to care for the environment and to make disciples. Why? Because God is a both/and God, not an either/or God. He cares for both people and the planet; he is concerned with saving both souls and soil. Following Jesus' example, then, we can be both people and tree-huggers.