elves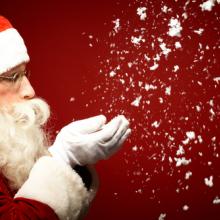 One of the great debates around Christmastime for Christians is whether to encourage or allow the belief in Santa Claus. I have friends and family on both sides of this debate, so I want to be careful here. I have a great deal of respect for the desire to keep the focus on Jesus and his birth at this time of year. I want to encourage that focus, too.
And, yet, I allow my children … I encourage them even … to believe in Santa.
We — my husband and I — don't just stop there. We also have elves that visit our house every year during this season. Some would say that at best I am distracting from the message of Christ. At worst I am lying to my children.
The line between fantasy and falsehood is delightfully fuzzy during childhood. God created it to be this way and it is so important for a child to be able to play in this grey area.