Ellen Davis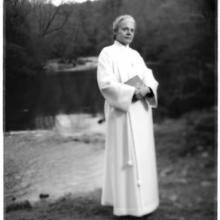 With her gray hair tied neatly in a bun and her wire-rimmed glasses perched thoughtfully on her nose, Ellen Davis looks the part of a distinguished Bible scholar.
Her resume certainly reads like one – a Ph.D. from Yale University and teaching appointments at Union Theological Seminary, Virginia Theological Seminary, Yale, and now Duke Divinity School.
Yet despite the traditional cast, Davis is leading a quiet revolution. For the past 20 years, she has been at the vanguard of theologians studying the biblical understanding of care for the land.