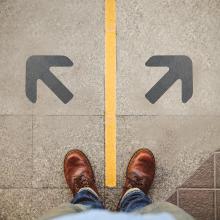 "I knew from the beginning that as a woman, an older woman, in a group of ministers who are accustomed to having women largely as supporters, there was no place for me to come into a leadership role. The competition wasn't worth it."
These are the words Ella Baker spoke regarding her decision to leave the Southern Christian Leadership Conference, SCLC, in 1958. Baker was one of the core founders of this organization. Yet, her male colleagues only recognized her competence and expertise to a limit. The "preacher's club" selected Rev. Wyatt Tee Walker to replace Baker at the helm. Due to this prevailing patriarchy and what she deemed a focus on "mass rallies and grand exhortations by ministers without follow-up," Baker left the SCLC. She chose to go her own womanly way.
We make decisions every day. Life's twenty-four-hour cycle is filled with choices. We contemplate what we will wear. We ponder breakfast selections. Will it be the bagel with cream cheese or a caramel macchiato with soy? Should I watch Mad Men, Scandal, or go to bed early? Do I call or just send a text or email? Our daily lives are replete with routine choices.
However, beyond these commonplace decisions are those personal, communal, and national selections that will have an impact on our lives years from now.