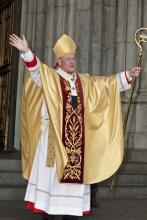 New York Cardinal Timothy Dolan, president of the U.S. Conference of Catholic Bishops, delivered his highly-anticipated benediction Thursday night to close out the Republican National Convention in Tampa.
Dolan will do the same for the Democrats next week in Charlotte, so this blessing seemed less like an imprimatur for the GOP than it would have had President Obama not taken the cardinal up on his offer to give the closing prayer after he accepts his party's nomination.
Moreover, Cardinal Dolan's four-minute prayer clearly had something for everyone – or, rather, something to cheer and challenge everyone in the hall.
He mentioned the importance of protecting the unborn, but also welcoming immigrants. His riff on religious freedom was a swipe at the birth control mandate, but he also mentioned the importance of "solidarity" and the "common good," two bedrock principles of Catholic social teaching that the Republican platform – and especially Paul Ryan's budget plans – are seen as undermining.