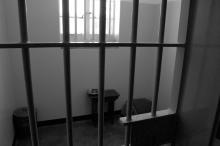 I believe that Nelson Mandela was the greatest political leader of the 20th century — because of his 27 years of spiritual formation in prison. Visiting Mandela's jail cell on Robben Island was the most emotional moment of my visit to South Africa this past summer. How could such a small place so change the world?
I found this quote by Mandela when I visited the Apartheid Museum in Johannesburg on my last day in South Africa. It's about how "the cell" drove him much deeper into his interior life. I think his words are a good reflection for us as we choose our elected leaders next week:
"The cell is an ideal place to know yourself. People tend to measure themselves by external accomplishments, but jail allows a person to focus on internal ones, such as honesty, sincerity, simplicity, humility, generosity and an absence of variety. You learn to look into yourself."
Let's reflect on that quote, both personally as leaders in the faith, and politically as we confront a very depressing election.
Know yourself. That is such different advice from what our candidates and other leaders get from their advisors and pollsters and boards of directors who want them to know their audience, their constituency, their potential voters or consumers — but not so much themselves. Leaders are often being told to "be who they need you to be," and seldom are they invited to go deeper into themselves.