Eid al-Fitr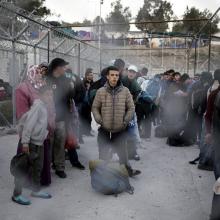 A population exchange with Turkey after World War I brought in over a million ethnic Greeks as refugees. When the new migration crisis began last year, there was empathy for the new arrivals, with many Greeks recalling what their grandparents went through.
But even given that proud history, academics and volunteers fear that the warm welcome of the last year could wear thin, when the refugees start to integrate in a nation that has long resisted a multifaith identity.
In their holiday Eid al-Fitr khutbas, or sermons, on Thursday many imams across the country noted a growing climate of acceptance in America but urged Muslims not to forget the problems facing their communities in the U.S. and overseas.
"The Eid khutba is like the State of the Union address," said Oklahoma-born convert Suhaib Webb, imam of the Islamic Society of Boston Cultural Center, the biggest mosque in New England, to an overflowing crowd — men dressed in crisp robes, tunics, and three-piece suits, women in black abayas, long floral wraps, and colorful headscarves.
"Our community is at a unique crossroads," Webb said, issuing a call for older Muslim generations to allow younger generations to have greater roles in community affairs. "There are a lot of young people with a lot of excitement, and a lot of old people with a lot of fear. And that's not a healthy thing."