egalitarian worship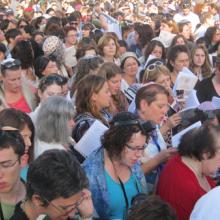 The Jewish Federations of North America announced Monday that its trustees had passed a resolution in favor of a nonsegregated place where men and women can pray and read from the Torah at the Western Wall, the Jewish holy site.
Worshippers at the Western Wall now have two options: separate men's and women's sections, both under the auspices of the Ministry of Religious Affairs, an Orthodox institution.
The egalitarian plan will allow the Western Wall to "become a spiritual center for all Jews and a symbol of unity for the entire Jewish community world-wide," the federation statement said.