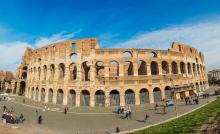 Last week I spent a few days in Rome with, among others, Tony Jones. As someone who hasn't ever been to Rome, it was particularly helpful for me to have a Christian historian along. It's easy enough, having seen one amazing display of ruins after another, or cathedral after awesome cathedral, to lose some perspective. So along the way, Tony would stop and point out the historic significance of various landmarks. Then of course, we'd go grab a bourbon and talk.
Both of us, at one point or another in the week, thought of the Monty Python scene from Life of Brian, in which the disgruntled rebels exclaim, "What have the Romans ever done for us?" So of course, some wise guy in the group starts rattling things off, like the aqueducts, roads, education, and so on.
So this led to a minor debate between Tony and me about the benefits of empire. Now, keep in mind that Tony is never one to pass up an opportunity to serve as the antagonist, but his argument as outlined in his blog post cheekily titled "In Praise of Empires," is that it's en vogue to trash empire, both present and past.
To put a finer point on it, we chatted about whether Constantine, the Roman emperor responsible for establishing the Nicene Creed, was an ass-hat.