eating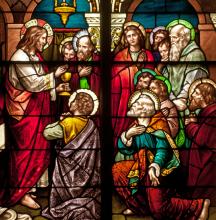 Reflections on the Revised Common Lectionary, Cycle B. 
Do you want to know a secret about working out? Here it is: we don't grow our muscles in the gym. When we lift weights we perform controlled damage to our bodies; we literally tear our muscle fibers, forcing our bodies to adapt. We improve outside of the gym by consuming healthy foods. To "battle the bulge" requires a commitment to strenuous exercise and healthy eating. All who have enjoyed (or endured) a strenuous workout or have disciplined their dietary practices understand that results are impossible without bodily sacrifice — no pain, no gain.
Furthermore, if it is true that we are what we eat, then Christ-followers ought to take a long, hard look at the kinds of things we are putting into our bodies. Paul's words to the Christ-followers in Rome offer us some food for thought (pardon the pun; couldn't help myself).
Paul beseeches us to present our bodies as living sacrifices, that is, to submit our lived reality to the standards that God deems acceptable. Such a way of being in the world is deemed reasonable — spiritual even, as the NRSV translators put it. This is our tangible act of service to God.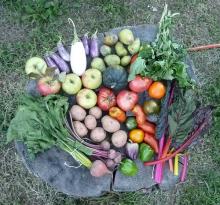 "Another world is not only possible, she is on her way. On a quiet day, I can hear her breathing."
 ~ Arundhati Roy

Vegetables.
Who could have imagined an economy in which gentle vegetables were subversive?
But this is our world. A world where a vegetable, whose growth is imperceptible to the naked eye, can spider a crack into the concrete of our industrial food system.

We find ourselves in a food economy that sickens us. Health is divided along race and class lines: the food economy particularly sickens those whose wages do not allow them to buy the foods that can cure us of the diseases industrial "foods" cause.
Corporations, which do not speak the language of human love and health, wrangle to profit from the stream of ill Americans falling from the industrial foods conveyor belt. But we know that type 2 diabetes, heart disease, obesity, and some cancers are fully preventable by replacing part of what we eat with fruits and vegetables.
Why, in a wealthy, fertile country are we wrecking the environment to produce foods that kill us?