eastern seaboard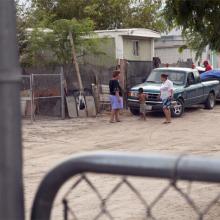 When I asked Father Guy Wilson what the children of immigrant parents are telling him, amid the current inundation with media chatter, political rhetoric, and executive action on the topic of immigration, tears welled up in his eyes and one fell on his clerical shirt.
"It's hard," he said. "They are so scared."
"Some of the teenagers have told me: 'My parents are good people. They have never even had a traffic ticket. Why would anyone want to take them away from me?'"
Did anyone else get the feeling, as we watched weather reporters wave their arms frantically in swirling motions across oversized maps of the eastern seaboard -- with their eyes bulging as they pushed out whole paragraphs without a single breath for a period -- that this was all hype?
Last weekend, as Irene passed over town after town in the mid-Atlantic, memories of Katrina did not materialize. By the time Irene huffed over New York City on Sunday morning, and the flood of the century was actually just a really big puddle in Battery Park and a floating lifeguard stand in Long Beach, my fear had transformed into complacency. From there I became cynical. By Sunday afternoon I found myself watching the weatherman's bulging eyes as he repeated the mantra of the day: "It's not as bad as we thought it would be, but it's not over." And I thought: "Boy, they'll do anything for ratings."
But it wasn't all hype.