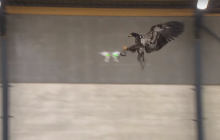 The bald eagle has been the symbol of the U.S. for over 200 years.
But we've never put an eagle to as good of a use as the Dutch are now: taking down drones. 
In order to remove drones hovering above unauthorized areas, such as airports or political events, Dutch police are training eagles to snatch them out of the air.
We've put a man on the moon. Why haven't we done this yet?