Dump Starbucks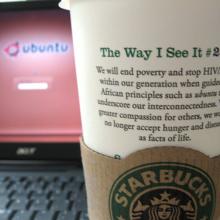 Anyone who listens to our Homebrewed Christianity CultureCast knows that we love Game of Thrones. The writing is complex and dramatic, and the characters are fascinating. What's more, after the recent "Red Wedding" episode, we're all too aware that no character, no matter how important or beloved, is safe.
The series, set in a fictitious medieval Europe, is also dark, exploitive, highly sexualized at times, and one has to stretch to glean any moral redemption from the episodes. As such, there's a debate swirling online about whether Christians can or should watch such a show. Where's the Gospel? How can we justify all the sex and bloodshed? Do we watch with the (possibly deluded) hope that things will incline toward virtue, even though the series creator has suggested no such intention?
Or should we just turn it off?
Now, there's a constituency of evangelicals and Tea Partiers who claim that, since the coffee super-chain Starbucks supports same-sex partner benefits, drinking their coffee (and therefore inadvertently supporting gay rights, I suppose) is anti-Christian. So sorry, followers of Jesus, but that favorite frappuccino you look forward to every afternoon is off the menu. If you don't want to make Jesus cry, at least.