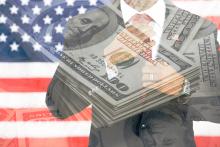 While there are no biblical texts speaking directly to the issue of money in politics, biblical principles are still relevant, and people of faith have an important role to play in the emerging debate about the future of our democracy. Before exploring those principles, however, it is important to understand the serious issues of inequality currently present in our system, and the correlation between inequality and the money flooding our political system.
The richest 1 percent own more of the nation's wealth than the bottom 90 percent. The richest one-tenth of one percent have as much pre-tax income as the bottom 120 million Americans.
In Affluence and Influence, political scientist Martin Gilens concludes that, "The preferences of the vast majority of Americans appear to have essentially no impact on which politics the government does or does not adapt." He details the data throughout his book that clearly demonstrates policy makers are only listening to the wealthy donor class. This situation has been made even worse by the Supreme Court'sCitizens United in 2010, which allowed a huge influx of money to flood our political system after declaring the personhood of corporations. 
The Court's more recent decision in McCutcheon v FEC made matters even worse. Before McCutcheon, one person was able to contribute up to $123,000 to political candidates and parties. In striking down this aggregate limit, the Court paved the way for individuals to contribute more than $3.5 million directly to candidates and party committees. In a report detailing the potential impact of McCutcheon, Demos predicts the decision could result in more than $1 billion in additional campaign contributions by 2020.