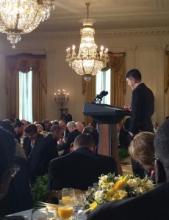 I got the call on the morning of Maundy Thursday: Would you be interested in giving the closing prayer at the White House Easter Prayer Breakfast?
Uh. Yes. Wow. Absolutely. I actually don't even remember what my response was, but it was probably something like that.
My feeling upon hanging up the phone — and the underlying sense all through the emotion and significance and spiritual intensity of our Good Friday and Easter Sunday services at my church — was, Who, me? 
I felt the same way walking into the White House with a bunch of leaders whose names and faces I'd seen before on social media or the news but never yet in person.
The other presenters that day were Rev. Amy Butler from Riverside Church in New York City, Sister Donna Markham of Catholic Charities USA, Fr. Anthony Messeh of St. Timothy and St. Athanasius Coptic Orthodox Church, and Pastor Ann Lightner-Fuller of Mt. Calvary A.M.E. Church, and as we met and chatted in the Blue Room while we waited for the President and Vice President to greet us before the breakfast, we shared this common feeling. Who were we to be doing this? At one point, Fr. Anthony said, "I'm just waiting for someone to tap me on the shoulder and tell me they made a mistake!"
Eight years ago, a 25-year-old, grad-school-student, fanboy-and-campaigner-in-chief Justin would have been unreservedly and unabashedly over-the-moon about an opportunity like this — and please don't get me wrong, I was excited. There were a lot of things I thought about saying to the President — "Big fan, sir!" or "We're praying for you!" or "Come visit The District Church — we're just a couple miles up the road!" or "How about that Championship game last night?"
But all that came out was, "Great to meet you, Mr. President!" And then I had nothing.
The breakfast itself was a fun thing to be a part of, too. From Vice President Biden's opening remarks to President Obama's reflections (and jokes, the man's got a great sense of humor!)to the song by Amy Grant (a childhood musical hero of mine) to the scriptures read from 1 Corinthians and Mark's Gospel to the homily on having the courage to hope and keep moving forward, the event was a thoroughly Jesus-saturated. It felt like an extension of Easter Sunday.
And I guess that's what God has impressed upon my heart this weekend and through the prayer breakfast: we all need the gospel and the gospel is for us all. Before the breakfast, I met Rev. Lennox Yearwood of the Hip Hop Caucus, and we both commented on how even famous people need Jesus, how even nice suits and dresses can't hide the things that we all have to deal with.