the district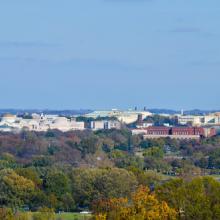 It's a rough month to be a Washingtonian.
My morning bike ride past the Capitol Building is leaving me less with the sense of inspiration I used to feel at being so close to the heart of democracy, and more with a creeping sense of disgust. Sometimes it's tough to live in a city whose very name is a synonym for Congress. "Washington" recently decided to cut off all funding for national parks, health research, and, oh yeah, programs that serve poor Americans.
Thanks to Congress, poor women might not get help from the Women, Infants and Children program to feed their babies. Head Start preschool programs have been canceled, leaving parents unable to work. People who need the SNAP program to feed their families could be left with nowhere to turn, while sick and elderly people who get regular visits from Meals on Wheels volunteers are worried about where their food will come from over the coming weeks.
There are about 40 members of an extremist ideological minority who are ruining the reputation of the place I live and work, and taking the poor down along with them.