displaced people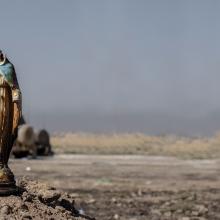 DOZENS OF CHURCHGOERS are dressed in their Sunday best outside St. John's Church in Qaraqosh, Iraq. Before entering, each person is individually searched. First, they are patted down for suicide vests. Then their bags are inspected for weapons.
It is Easter—the first to be celebrated in this church since Islamic State (ISIS) militants were driven out of Qaraqosh, formerly Iraq's largest Christian-majority city, by Iraqi forces after nearly three years of conflict.
Everyone is cautious. A week earlier, ISIS suicide bombers killed more than 40 people, including themselves, at two churches in northern Egypt during Palm Sunday services.
After months of violence in the Central African Republic, signs of hope emerged following Friday's esignation of interim President Michel Djotodia and Prime Minister Nicholas Tiengaye.
But Roman Catholic Archbishop Nestor Desire Nongo-Aziagbia of Bossangoa said that although guns had gone silent, the crisis was far from over.
"The shooting has ceased, but the tensions are still there," Nongo-Aziagbia said Monday. "Resignation is a first step towards solving the crisis."
The resignations at a regional summit in neighboring Chad sparked wild celebrations among Christians in the capital, Bangui. The president was a Muslim.