director
The Dictator, amid its crudity and over-the-top stereotypes, asks us to reimagine democracy.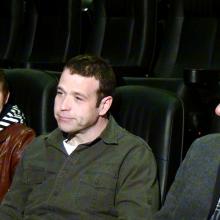 "There are people who struggle with not being understood; God is not one of them."

~ Donald Miller to Christian Piatt
in 'Blue Like Jazz' - The Sojourners Interview
coming Wednesday on God's Politics
++++++++++++++++++++++++++++++++++++
Earlier this week, our intrepid blogger/reporter/resident-God-Nerd Christian Piatt sat down with the makers of the highly-anticipated film Blue Like Jazz — Donald Miller, director Steve Taylor and Marshall Allman, the actor who portrays protagonist "Don" in the screen adaptation of Miller's best-selling memoir — to talk about faith, film and ... fate. The far-ranging interview covers everything from John Coltrane's "A Love Supreme" and what Miller calls "dangerous theological ideas" to the astounding grace of God and peanut butter cups. Fascinating and funny, the conversation with the hearts and minds behind Blue Like Jazz is a humdinger you won't want to miss.
But because we like you a whole lot , we've prepared a wee taste of what's to come ... inside the blog.