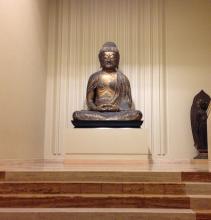 I just learned about the U-curve — the basic psychological insight that most people get happier around age 50.
Judging from a variety of survey data from multiple cultures, people tend to be happy in their 20s and early 30s before hitting a less-happy trough in their late 30s and 40s, then returning to happiness in their early 50s. The line graph for this looks like a "U" stretched out on both sides, or, if you prefer, like a smile.
The predominant explanation seems to be that when we are young, we are ambitious and optimistic.
We feel good physically and have our lives in front of us. By our 40s, we start to worry about things we have not done yet, stymied by the realization "this" might be all there is. But by our early 50s we move on toward thinking "this" is not so bad after all.
At 54, I'll admit my own experience seems to fit the pattern. I have less energy, my career has likely plateaued, and my parents will probably soon need closer care, but I still feel more satisfied. Is this because I got enough of what I desired? Or is it, perhaps, because I stopped desiring so much, or at least started desiring different things?
I teach comparative religion, so I know who spoke most clearly about satisfaction and desire. The Buddha taught these Four Noble Truths:
Life is dissatisfying.
Dissatisfaction is caused by desire.
Dissatisfaction will end only when the desires are extinguished.
The way to extinguish desires is to follow spiritual discipline. (For the Buddha, spiritual discipline meant the Eightfold Path).
I'm not kidding anybody: I have not extinguished all my desires. And I do not have much spiritual discipline. But maybe life is adjusting my desires whether I asked for it or not.