delaware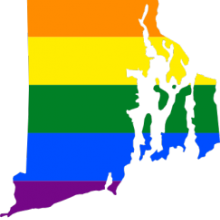 WASHINGTON — Rhode Island on May 2 became the 10th state to approve same-sex marriage, and the Delaware Legislature holds a key vote on May 9 on the same issue. But Brian Brown, president of the National Organization for Marriage, denies there is a national tide in support of marriage rights for gay couples.
"I don't know that I would say Rhode Island is a trend," Brown said, also questioning victories for supporters of gay marriage initiatives in Maine, Maryland, and Washington state last November.
"Again, we're talking about states that are not necessarily indicative of the rest of the country. These are pretty deep-blue, liberal states we're talking about."
Even so, Brown, the head of the leading national organization opposing same-sex marriage, finds himself playing defense as more Americans support same-sex marriage and more state legislatures debate measures authorizing it.