declutter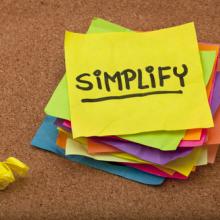 Editor's Note: This post is a follow-up to yesterday's Ten Ways to Live "Almost Amish.' Author Nancy Sleeth offers tips for achieving each of her principles for "almost Amish" living.
1. Homes are simple, uncluttered, and clean; the outside reflects the inside.
Almost Amish Decluttering Tips:
Start small: Clean one shelf of a closet, once corner of the basement, or one drawer of your desk each Saturday; by the end of the year, your house (and heart) will be much lighter.
For each item you bring into the home, give (at least) one away one.
Limit temptation by reducing catalogs and junk mail: visit

www.dmachoice.org

and www.catalogchoice.org to remove your name from mailing list.