debts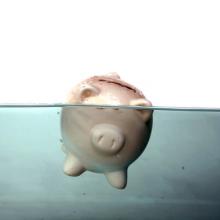 The world as we know it may end on Oct. 17.
This statement seems hyperbolic. It sounds like another absurd prediction of the end times that garners far too much attention from the media. But this isn't about the fulfillment of biblical prophecy. Unless the Congress raises the debt ceiling, Oct.17 is the date that the United States government runs out of money to pay its bills.
The consequences could be catastrophic.
Defaulting on our financial obligations would shatter the global confidence in the U.S. dollar that has made it the worldwide reserve currency. U.S. Treasury bonds would no longer be perceived as safe investments, which means creditors would demand higher interest rates to purchase the bonds because of the increased investment risk. The rise in interest rates would make U.S. debt more expensive to finance, leading to more government spending and slower economic growth. The U.S. Treasury believes a default could cause another recession far worse than what we experienced in 2008.
Of course, this pending crisis is completely manufactured and entirely avoidable.