david cortright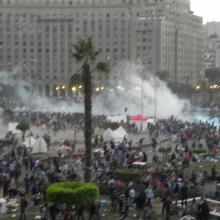 As we gazed in shock at the battle below, Dr. Nadia quietly stepped back from the balcony.
We turned and saw her sitting alone in her office, hanging her head, shaking it from side to side in dejection. She had just said that the continued clashes were harming the revolution, that unknown forces were at work among the activists and in the military to undermine the revolution and prevent the transition to democracy.
No good can come from this, she said. Little could she have imagined that her words would be so quickly and horribly confirmed.
The killing of
Osama bin Laden
brings partial closure to the long war against al Qaeda.