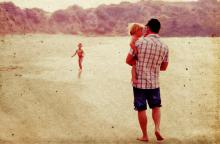 I have two daughters.
They are little spark plugs of utter joy and complete chaos. They make me laugh. They make me cry. They remind me to view the world through childlike wonder. They remind me that I am not what I do, but who I am. They teach me what selfless love actually looks like … every day … day after day … early morning after early morning … nasty crap diaper after nasty crap diaper. They make me realize how much I have to learn about parenting and our place in the world.
Most every night from the moment they were born, I have quietly held them in my arms or rested my hand on their backs while they sleep and prayed for them.
I pray for their continued breath. I pray for their development as little, unique human beings. I pray the Spirit of God to fill them and empower them. I pray the Lord's Prayer over them. I pray for them to be protected from evil. I pray for them to love those who aren't often loved. I pray for them to live confidently into who they have been created to be, free from the pressure of imposed reputation and expectation.
I pray for their past, present and future.
In learning to love these little girls, I began to ask more and more questions about the place of women in the world, in the church, and in everyday life.