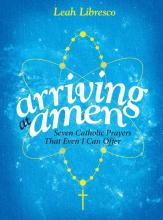 Arriving at Amen, the forthcoming memoir-infused guide to spiritual practices by Leah Libresco, reads like a fantastic series of blog posts combined into a less-spectacular guide for small groups getting their hands dirty with spiritual practices. Oddly, Leah seems to respect her audience a bit too much by assuming that they are as geeky and morally driven as her. This limits Arriving at Amen's usefulness in the pastoral context, which it seems marketed and designed for — but makes it more interesting for me. 
Leah has a great internet presence — from her blog Unequally Yoked to a new radio show Fights in Good Faith and now reporting and doing analysis for FiveThirtyEight. Leah is, basically, a very liberally well-educated math nerd who turns to religion in the same way that she turns to everything – full-voiced and with the intention to win.
Arriving at Amen riffs on some historic spiritual practices, all billed as Roman Catholic (though I, as a cranky reformed Presbyterian, can still get some mileage out of them) such as the Divine Office, examen, lectio divina, and several others.
Leah has lots of helpful tips here. The Divine Office (a set structure of prayers that I've found healthy in my own life) can become a means to organize your time and a way to transition to and from work on your commute. She suggests using the Jesuit daily self-reflection of the examen as way to proactively think about virtues that you can cultivate rather than as another opportunity to spiral into guilt. She even rethinks lectio divina, the practice of meditation on scripture, by suggesting that the reader translate scripture into another language as she does with American Sign Language.
All of this is helpful advice — but it also demonstrates the scattershot nature of Arriving at Amen.