cynic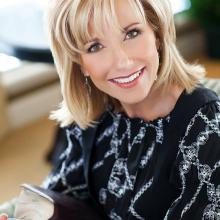 I think what turned me off the most was the hair. It was just so ... big. And the scrappy "don't mess with Texas" vibe. And the fact that evangelical moms all over the country were fans. As a third generation New Yorker, cynicism and snark have been bred into me, along with an affinity for black clothing and pretentious coffee. So it has surprised everyone — including me — that I have spent the past year going through (and recommending) Beth Moore studies.
How did it happen? Well, I moved from my hometown of New York City to Washington, D.C., and while I was exploring various employment opportunities, I had a lot of free time. The wife of the former associate pastor at the church I'd started attending invited me to join a "women's Bible study" that met on Friday mornings. They were doing a Beth Moore study called Breaking Free. It seemed fishy to me — who are the only women who have free time on Friday mornings? Moms. And Beth Moore? I had spent six years attending and four years on staff at a church in New York that got super famous because of its own rockstar, hyper-intellectual, and somewhat post-modern teaching. We prided ourselves on not being ... well, like Beth Moore.
Still, I was trying to be open to life in my new city so ...
I walked into the group a couple of minutes late wearing gold sequin pumps, skinny jeans, and a red leather jacket — what I would normally wear to bum around town in my old life. I could not have been more out of place amidst the yoga pants and baby blankets. But I met some of the most awesome women I've known in D.C. and more importantly — I met Beth.