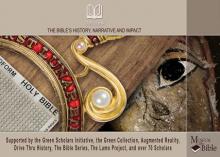 On April 14, the school board in Mustang, Okla., voted to institute an elective Bible course. This is not news. More than a thousand U.S. public schools offer Bible as literature courses.
But the curriculum for the Mustang course was developed by Steve Green, president of the Oklahoma-based Hobby Lobby craft store chain, which is committed, according to its website, to "honoring the Lord in all we do."
In March, Hobby Lobby argued before the Supreme Court for a religious liberty exemption to the Affordable Care Act. Now Green is promoting the Bible curriculum the Mustang school board just adopted — a curriculum he predicts will soon be adopted in hundreds, perhaps thousands, of American public schools.