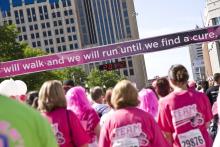 One morning each week, I ascend the outdoor staircase on the side of our little church and enter the Upper Room – a cozy, loftlike space above the pastors' offices set apart for prayer.
Once inside, I turn up the volume on my phone, choose "Taize" or "Gregorian Chants" from the iTunes playlists, pull out my knitting and begin to pray.
The subject of my silent prayers is usually the person for whom I'm making the scarf or blanket or shawl. The prayers are as simple as the stitches and after a minute or two, they become as steady and unconscious as my breathing:
"Lord, I lift to you your child." And then I say his or her name.