crusade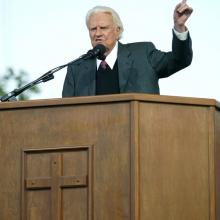 We gathered at Billy Graham's alma mater over three days to explore his ministry's place in American history and chronicle its meaning for the future. It was a fascinating conversation, and poignant, too, as Graham struggles with poor health at home in Montreat, N.C., far from the limelight he once commanded.
But as scholars and admirers here in suburban Chicago added to the growing conversation on Graham's legacy, a question hovers: How many people younger than, say, 60 are listening?
Evangelist Billy Graham, 93, was admitted to a North Carolina hospital after he developed a fever on Saturday and is now being treated for bronchitis, said his longtime spokesman, A. Larry Ross.
"Mr. Graham continues to do well and the infection is responding well to treatment," said Dr. David Pucci, the pulmonologist who is treating Graham at Mission Hospital in Asheville, N.C., on Monday. Graham is in stable condition.

Graham spent Sunday watching the Olympics and the broadcast of the worship services at First Baptist Spartanburg, where the guest preacher this week was his grandson, third-generation evangelist William Graham IV, Ross said.