crucifixion of christ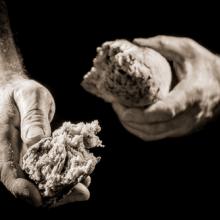 A respectful, bright young high school student asked me yesterday if Baptism and the Eucharist were not merely symbols. 
The first thing out of my mouth, I suspect more or less unconsciously (I've never answered in this way before) was:
"When Paul talks about Christ being 'in us' or about 'putting on' Christ does he mean to invoke a metaphor or a reality? Does Jesus really make his home in us by the Spirit or do Christians, when speaking in this way, generally mean that Jesus lives in us only symbolically?"
This hit home — for him, for thirty young adults, and for me.
As a Christian, I have a high level of sensitivity toward Jews, of a never-ending sense to be protective of their religion