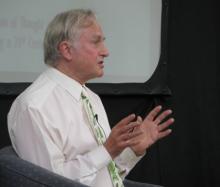 As the world's most famous atheist, Richard Dawkins is no stranger to criticism from religious believers.
But in recent months, a few of his opinions have riled many in the atheist community as well. Remarks he made on Twitter and elsewhere on subjects ranging from sexual harassment ("stop whining") to Down syndrome fetuses ("abort and try again") have sparked suggestions from some fellow nonbelievers that he would serve atheism better by keeping quiet.
When asked about his controversial July tweets on pedophilia — Dawkins opined that some attacks on children are "worse" than others — the 73-year-old British evolutionary biologist and best-selling New York Times author declined to be interviewed.
But on a speaking tour through the San Francisco Bay Area in support of his new memoir, "An Appetite for Wonder," he invited a reporter to sit down with him and explore the thinking behind his remarks.
Bottom line: He stands by everything he has said — including comments that one form of rape or pedophilia is "worse" than another, and that a drunken woman who is raped might be responsible for her fate.