Corvallis, Ore.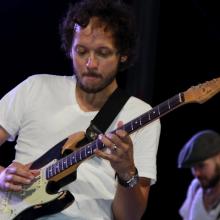 Hello fellow Sojourners!
This is a brief missive for your enjoyment. I just returned from the Wild Goose Festival in Corvallis, Ore.
Yes, Oregon and not North Carolina. You see, in a fit of wisdom, the good people of Wild Goose found a west coast location. I hope it worked well for them because I'm sold on the place.

I wish you could have been there. It was amazing. To tantalize you into attending next year, here (in no particular order) are Nine Good Reasons to Attend The Wild Goose Festival.

1. There are no bugs.
None. Well, some flies, but this is Oregon and not North Carolina and though the nights are chilly and the mornings moreso (I awoke the last morning to see my breath in the air), the sun arose and everything warmed up to make for some of the most beautiful weather you'll ever experience.

2. All the notables are there.
Rachel, Richard (and Richard), Brian, Nadia, Gareth, Bruce, Christian, Amy, Yvette, Hilary, Greg, Steve...So many people to meet and to know.