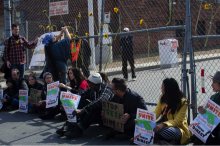 "An individual who breaks a law that conscience tells him is unjust, and who willingly accepts the penalty of imprisonment in order to arouse the conscience of the community over its injustice, is in reality expressing the highest respect for the law" —Martin Luther King, Jr.
Last year on a crisp afternoon in March, I was one of nine people arrested by the NYPD and taken away to the local precinct for processing. My crime? Attempting to plant detoxifying sunflowers on public brownfield land on the South Bronx waterfront in New York City.
Earlier in the day, more than 100 residents, faith leaders, organizations, friends, and allies came together to protest the proposed relocation of the online grocer FreshDirect to a residential neighborhood in the South Bronx. After a jubilant and joyous interfaith reflection and prayer vigil outside the entrance to the waterfront location, security guards refused to let us cross the gate, so we sat in front of it in protest — a peaceful and non violent act of civil disobedience.
Our coalition, South Bronx Unite, works to improve and protect the social, environmental, and economic future of the South Bronx in New York City, located in the poorest congressional district in the country. For three years we have been fighting to stop FreshDirect from receiving more than $100 million in subsidies and incentives to build a diesel trucking distribution center on public land along the Bronx Kill Waterfront.