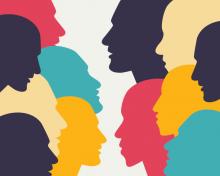 An historic event took place recently in the seaside town of Belfast, Maine. Ten people of vastly different political persuasions — Libertarians, Tea Party Republicans, Democrats, and Progressives — sat in a circle, had a civil dialogue about their hopes and fears for America, and discovered their common ground. Their experience is a model of the local dialogues we so desperately need to build bridges across the political divide.
And yes, one of the 10 is a Buddhist. Judith Simpson, a practicing Buddhist, facilitated the conversation. Judith is an organizational development consultant who has worked with the likes of Eastman Kodak and Corning. She facilitates using a group process called Dialogue. Judith now plies her skills in restorative justice. Dorothy Odell organized the event. She has worked in education as a teacher and as a member of the Belfast School Board. Both reside in Belfast.
"I've gotten upset with the media fanning the flames of the story that we're a polarized nation," said Dorothy. Judith agreed. Together, they decided to do something about it.