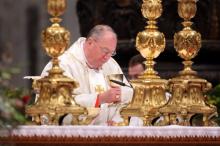 In the weeks since President Obama proposed a compromise on his plan to mandate free contraception coverage, the nation's Catholic bishops have appeared unified and galvanized in their thorough rejection of the accommodation.
For the hierarchy, it's been an invigorating change after years of playing defense during the clergy sexual abuse crisis.
"What (Obama) offered was next to nothing," a confident New York Cardinal Timothy Dolan, president of the U.S. Conference of Catholic Bishops, told Catholic News Service.
Other prominent churchmen were even more derisive. They blasted Obama's olive branch of having insurers -- rather than employers like Catholic hospitals and universities -- pay for birth control coverage under a separate policy as an "accounting gimmick."