consistency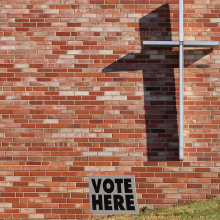 Most people in America, whether they are religious or not, prefer consistency in the faith community to hypocrisy. One of the reasons the fastest growing demographic in religious affiliation surveys is now "none of the above" is that too many people see more religious hypocrisy than consistency.
Religion is not, at its core, politically partisan. But too often religion becomes a political tool; and we see that on both sides of the aisle. That does not mean people of faith shouldn't have strong convictions or feelings about political issues or shouldn't vote one way or another; or that there is a moral equivalency between the political parties and it doesn't matter which way we vote. Elections are important, and people of faith should be voting as citizens and by their most basic values.
But let's be clear: On Nov. 6, neither a Republican nor Democratic victory will bring in the Kingdom of God.