conscientious objectors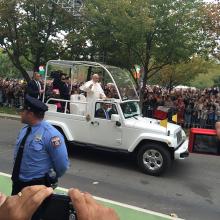 Pope Francis' visit to the United States last week was a huge hit with the media and with the public. This week, Americans may have wondered whether he would provide ongoing unity and inspiration for our public discourse, or whether we would return to culture warring and ideological sniping.
Liberals inside and outside the Catholic Church noted that the pope made only brief allusions to abortion and same-sex marriage but spoke at length about immigration, climate change, and economic inequality.
Yet as progressives were ebullient, news broke Sept. 29 that Pope Francis met privately with Kim Davis, the Kentucky county clerk who refuses to sign marriage licenses for same-sex couples.
Today (Oct. 4) Christians around the world celebrate the life of St. Francis of Assisi, one of the bright lights of the church and one of the most venerated religious figures in history.
The life and witness of Francis is as relevant to the world we live in today as it was 900 years ago. He was one of the first critics of capitalism, one of the earliest Christian environmentalists, a sassy reformer of the church, and one of the classic conscientious objectors to war.