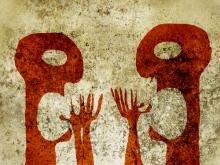 Conflict happens everywhere, from Congress to congregations, from boardrooms to bedrooms. The dysfunction of Congress is just a highly public instance of a typical conflict scenario.
I recently compiled some basics of church conflict. See if you agree with me that this playbook applies broadly.
Church conflicts – which will happen to all clergy and congregations eventually – generally focus on the clergy, just as conflict in any enterprise tends to focus on the top leader. That's because the underlying issue usually is power – who calls the shots, who can initiate change, who can hold others accountable.
Secondary issues like specific actions, perceived performance and trust get the spotlight, but are surrogates for the power issue. People who want power don't relish being perceived as wanting power. They prefer being seen as the aggrieved, better performers, more trustworthy, more faithful to ultimate purposes.
Church conflicts usually spring from a small group of antagonists, perhaps even a single person, who start with a conclusion, largely intuitive and emotional, and then search for reasons. Those reasons tend to be moving targets that defy better information. Deal with one reason, and two more take its place.
Antagonists, meanwhile, intimidate others into compliance, or at least silence, by making it clear they will stop at nothing to win.