complementarian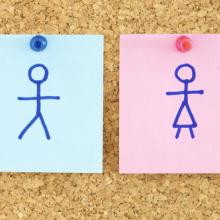 Editor's note: This is a He Said, She Said on the issue. To read this author's husband's take, go HERE.
Who would have thought that five years into our marriage we would still be having this debate? Gender roles. Egalitarianism. Complementarianism.
If you've come here first, please read my husband's take on the issue before continuing on.
We tend to think fairly similarly, though he likes to think himself a complementarian, while I tend toward the egalitarian label. I love words, but that's all these are: words. I think it's all in how you define it for yourself. But since he brought it up …