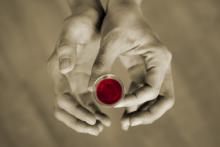 I love food. I love food even more when it's shared with people. Some of my fondest memories with friends and family happened while sharing food. My husband and I shared our first date over a meal, and we got engaged over a meal. There's something about sitting around a table partaking in sustenance for our bodies that also fills our soul and our hearts. That's probably why I love communion so much.  
So I was struck by Paul's anger over food in 1 Corinthians 11. Granted, Paul comes off angry in other letters as well, but this one I decided to linger on for awhile because of verse 27: "Whoever, therefore, eats the bread or drinks the cup of the Lord in an unworthy manner will be answerable for the body and blood of the Lord."    
Paul's letter is directed to a community in Corinth that was made up of the poor, the working class, and the rich. They lived together, shared communion with each other, and sought to be a community that reflected Christ. Now, this doesn't seem too different from what we do at church today. But unlike how we celebrate communion — as it's own "event" during service — for the 1st century Christians, communion was part of a real meal. 
So what could be so "unworthy" about this shared meal?