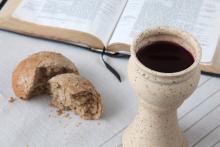 Every three years, the assigned readings during the summer include five weeks of working our way through the Gopel of John, chapter 6, and what is called the "Bread of Life Discourse." And let's just say that if Trey Parker and Matt Stone wrote a musical called The Book of John they'd have plenty of material from just this chapter alone.
In the last five weeks we've gone from the feeding of the 5,000 to Jesus walking on water in the middle of a storm at sea — by the way, Jesus walks on water during a storm at sea so often in the gospels that I've started thinking it was less about being miraculous and more about just getting in some cardio — anyhow,  the crowd chased him down, demanding more bread, and then he goes and says that he is the Bread of Life come down from heaven (which angered the nice religious folks), and rather than backing off, he makes it even weirder by saying whoever eats his flesh and drinks his blood has eternal life. 
Which is where we pick up today when some of his disciples are like, "Uh Jesus, that teaching is HARD…who can accept it?" And many of them leave. And I have to say, I don't really blame them.
This teaching IS hard. But honestly, Jesus had a lot of sayings that were HARD. Sayings such as, " Love your enemies and pray for those who persecute you," "You who are without sin cast the first stone," "Sell all you have and give it to the poor," "The first shall be last and the last shall be first," and "If you seek to save your life you will lose it."
I totally understand the reaction of these disciples who say these teachings are hard, who can accept them?
But this week I started to wonder if maybe those disciples didn't have to leave Jesus … I mean, when we make the accepting of hard teachings the litmus test for being a follower of Jesus, I wonder if we are perhaps missing the point altogether.